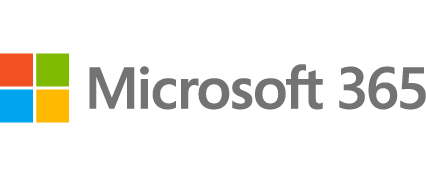 Microsoft 365 is an integrated solution that includes Windows 10, Office 365 and Enterprise Mobility + Security (which includes Intune device management, analytics and some Azure Active Directory capabilities).
Enterprise Mobility + Security is focused on keeping the customer data safe.
I helps puts the customer in control of the company devices and help defend against malware and accidental leaks. It also helps control who has access to certain information. Importantly, It can protect work files when company devices are lost or stolen, manage mobile access, and selectively wipe data on personal devices. There's even the ability to configure, apply company policies, and manage Windows 10 PCs, Android Phones, and iOS devices.
Office 365 is a cloud-based suite of apps and services includes access to Word, Excel, PowerPoint, and a few other Microsoft collaboration services. That includes SharePoint, OneDrive, Teams, Yammer, Planner, Microsoft Stream, Bookings, and more. There are quite the bit of robust apps included in the services, which can help you get your business up and running.
Office 365 plans do not include any of the extra Enterprise Mobility + Security tools covered with Microsoft 365.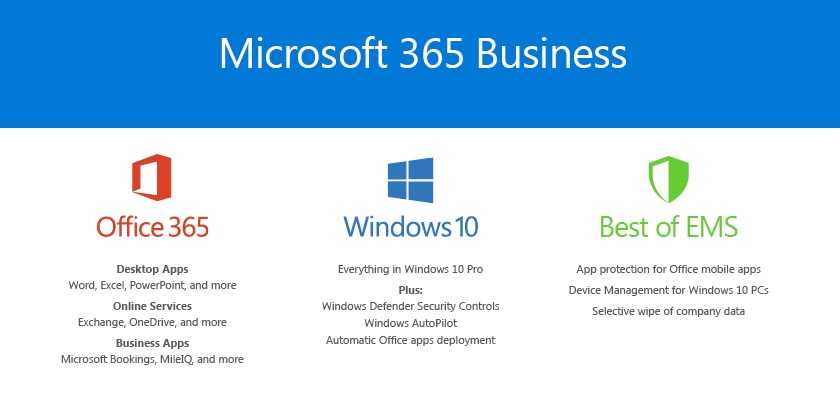 Benefits of Migrating to Microsoft 365 or Office 365
• Decrease IT operating costs
• Leverage a broader set of IT services
• Gain additional applications for all users
• Increase availability for users with multiple devices
• Create a seamless experience for users with no loss of data
With Microsoft 365 and Office 365, you get
• Fully installed versions of Office applications including Word, Excel, PowerPoint, Outlook, Publisher, and OneNote on up to five PCs, Macs, tables or phones per user
• Online version of Office including Word, Excel, and PowerPoint
• Online scheduling
• Microsoft Teams chat-based workspace with instant access to your chats, content, people, and tools
• Microsoft Teams Unlimited online meetings, IM, and audio, HD video, and web conferencing
• Work management tools to enable teams to create plans, organize, assign, and collaborate around tasks
• Business class email, calendar, and contacts with a 50 GB inbox per user and another 50GB archive
• File storing and sharing with 1 TB of storage per user
• Protection for sensitive information
• Yammer corporate social network to enable employee collaboration
Our Microsoft 365 Managed Services focus on providing your business with the support and guidance you're looking for. You can improve productivity and reduce your IT burden with innovative Office applications, intelligent cloud services and world-class security for your business
With TekayTech Microsoft 365 Managed Service Provider you get:
Access to the experts:
Our Microsoft Certified Professionals configure and manage your solution to help you get the most out of your investment.
24x7x365 support
Day or night, get around-the-clock access to award-winning support with unlimited requests and no per-incident charges.
Handle all daily operations:
Desktop installation of all Office versions through Office 365
Configure Outlook profiles, and train employees on how to use contacts, signatures, and calendar
Password reset
Microsoft 365 Managed Service
TekayTech offers Microsoft 365 migration services and managed services for businesses who want to move from on-prem to cloud
The cloud-based solution is provided for a low monthly subscription price with 24x7x365 support.
Once you have migrated to Microsoft 365, TekayTech can manage the platform for you take care of new user additions and deletion, software upgrades, email management and tracing, account administration and provide technical support for your employees, 24x7x365.
Our migration services follow best practices in implementation, and ensuring your team is informed every step of the way, including planning, setting up, migrating, and managing. TekayTech provides a fixed, flat fee, end-user mailbox migration services